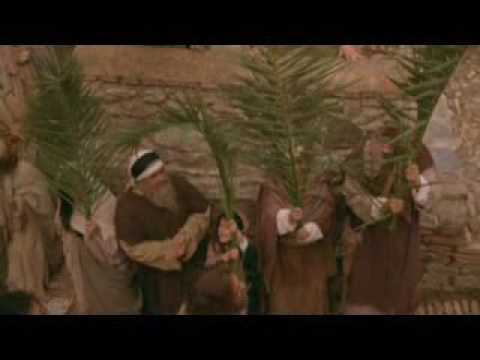 Palm Sunday marks the beginning of Holy Week in the Church. This day marks the triumphal entry of Jesus into Jerusalem. This feast is very familiar to a lot of Christians. Most of us think of Palm Sunday as the day in which there is a very long Gospel reading at Mass and everyone gets a freshly cut piece of palm.
On the procession with the palms the Gospel according to St. John (12:12-16) states:
When the great crowd that had come to the feast heard
that Jesus was coming to Jerusalem,
they took palm branches and went out to meet him, and cried out:
"Hosanna!
"Blessed is he who comes in the name of the Lord,
the king of Israel."
Jesus found an ass and sat upon it, as is written:
Fear no more, O daughter Zion;
see, your king comes, seated upon an ass's colt.
His disciples did not understand this at first,
but when Jesus had been glorified
they remembered that these things were written about him
and that they had done this for him
This year Palm Sunday falls on April 1 which is also April Fools Day.  However this Feast is not a practical joke.  This same fickle crowd that showers Jesus with Hosannas on this day will shortly be yelling "Crucify Him" by Friday.
What about us?  Do we welcome Jesus into the gates of our hearts, only to crucify Him soon shortly afterwards?  I'm afraid that each one of us has done this in some form or fashion in our lives. The same question could be examined in our relationships with others. Are our relationships characteristic of being extremely friendly one moment and then being cold the next?  There is a lot to be said about being genuine and it is truly human nature to be fickle.  However it is the higher road to be humble and loving to even those who might turn on us.
It is clear that Jesus was not running a popularity contest.  In fact, He took on the role of servant according to St. Paul:
Christ Jesus, though he was in the form of God,
did not regard equality with God
something to be grasped.
Rather, he emptied himself,
taking the form of a slave,
coming in human likeness;
and found human in appearance,
he humbled himself,
becoming obedient to the point of death,
even death on a cross.
It is His example of allowing Himself to be abandoned and going to the Cross that speaks of humility and great love for us in spite of our attitude du jour.
Above is a clip of the first Palm Sunday from the movie The Gospel of John.